There are few places in this world as special as the Four Seasons Golden Triangle. Believe me, someone who has been fortunate enough to experience many of the world's most magical destinations and luxury hotels, this particular property is the crème de la crème. So what's it like checking into the Four Seasons Golden Triangle? After my last visit I can tell you exactly what to expect from this luxury getaway in Thailand overlooking Myanmar and Laos.
The Golden Triangle
If you're new to the region, the Golden Triangle is a small pocket where three neighboring countries collide on the Ruak and Mekong rivers. These countries are Thailand, Myanmar and Laos. Three extremely unique cultures that also share some similarities, making this a unique place to visit.
Before visiting the Golden Triangle, I had little idea what to expect. I envisioned a jungle-like setting with elephants roaming in the distance, humid days and epic sunsets. All of this was true and much more.
In many ways, the experience feels like a Southeast Asian version of a safari, especially in recent years as this area of ​​northern Thailand has become an elephant sanctuary. There are now many elephant sanctuaries in the area, as well as a small handful of luxury properties that offer a respectful and educational approach to dealing with elephants.
There is also a seemingly endless supply of temples to wander around and learn the history of Chiang Rai, the most important community in Thailand's Golden Triangle pocket.
The Lodge: Check in at the Four Seasons Golden Triangle
If you're going all the way into the depths of northern Thailand's jungle, you'll want to stay at least four or five nights to get the most of your efforts. And if you decide to stay at the award-winning Four Seasons Golden Triangle, believe me when I say you won't want to leave!
This property has been on my hotel bucket list for a while, having first seen pictures of the property in travel magazines many years ago. But with its remote location, far from everything, it only made sense to visit when I was planning a major trip around Thailand.
Compared to some safari style hotels in Africa, the experience at this lodge is not dissimilar. Here you are in the middle of the jungle, far from civilization but never far from the modern luxuries of life. An all-inclusive minibar to start with, replenished daily.
The lodge itself is a true oasis. There is a main pool area with multiple pools and day beds tucked away for guest privacy. Here you will also find the main restaurant, which serves breakfast, lunch and dinner daily. However, if you prefer a more relaxed atmosphere for a sundowner, don't miss the opportunity to watch the sunset at Burma Bar, located on the other side of the property overlooking Myanmar.
In the safari tents
The safari tents are the farthest from a tent. For starters, they feature polished floorboards and luxurious oversized bathtubs. And I don't know about you, but to me, sleeping in a tent on camping trips growing up in Australia doesn't look remotely like this luxury canvas tent!
All the essentials are provided – including multiple doors and fly screens to prevent jungle animals from entering the room. There are also closable canvas windows you can sleep in if you prefer, but when the lodge offers daily elephant feedings for breakfast at the restaurant, it's a bit hard to ever want to go to bed.
As already mentioned, the minibar is stocked daily with snacks, alcoholic and non-alcoholic beverages. There's even dried lemon wedges for your afternoon gin and tonic, best enjoyed on the oversized patio in front of your tent.
In the tent tent rooms you have the choice of an indoor bath or an outdoor shower, both of which are worth a visit during your stay. And believe me when I say the rooms are so well appointed you'll never want to leave. But those who do are rewarded with wildlife encounters like a walk with elephants or a safari-style sundowner in a vintage Land Rover Defender.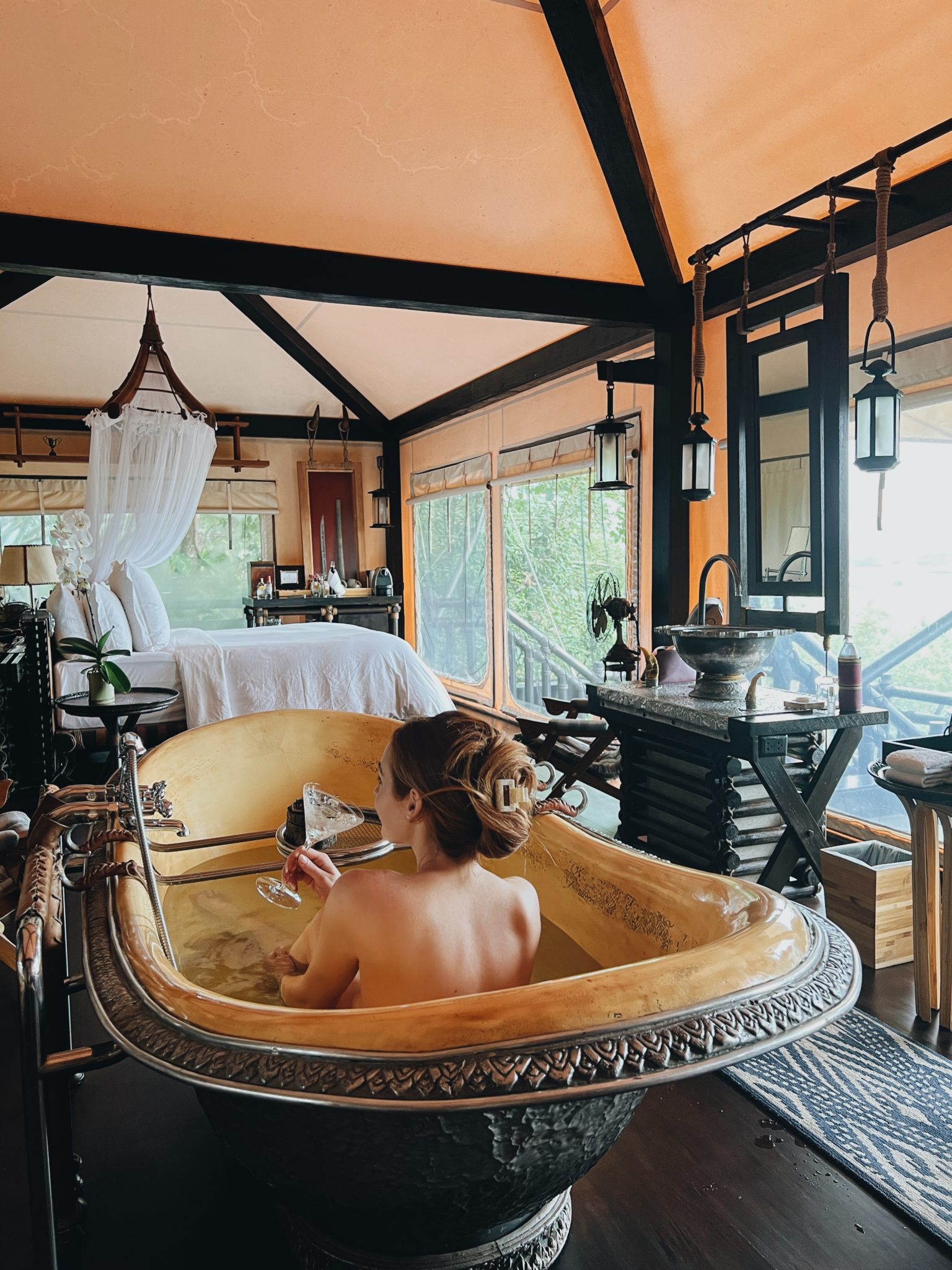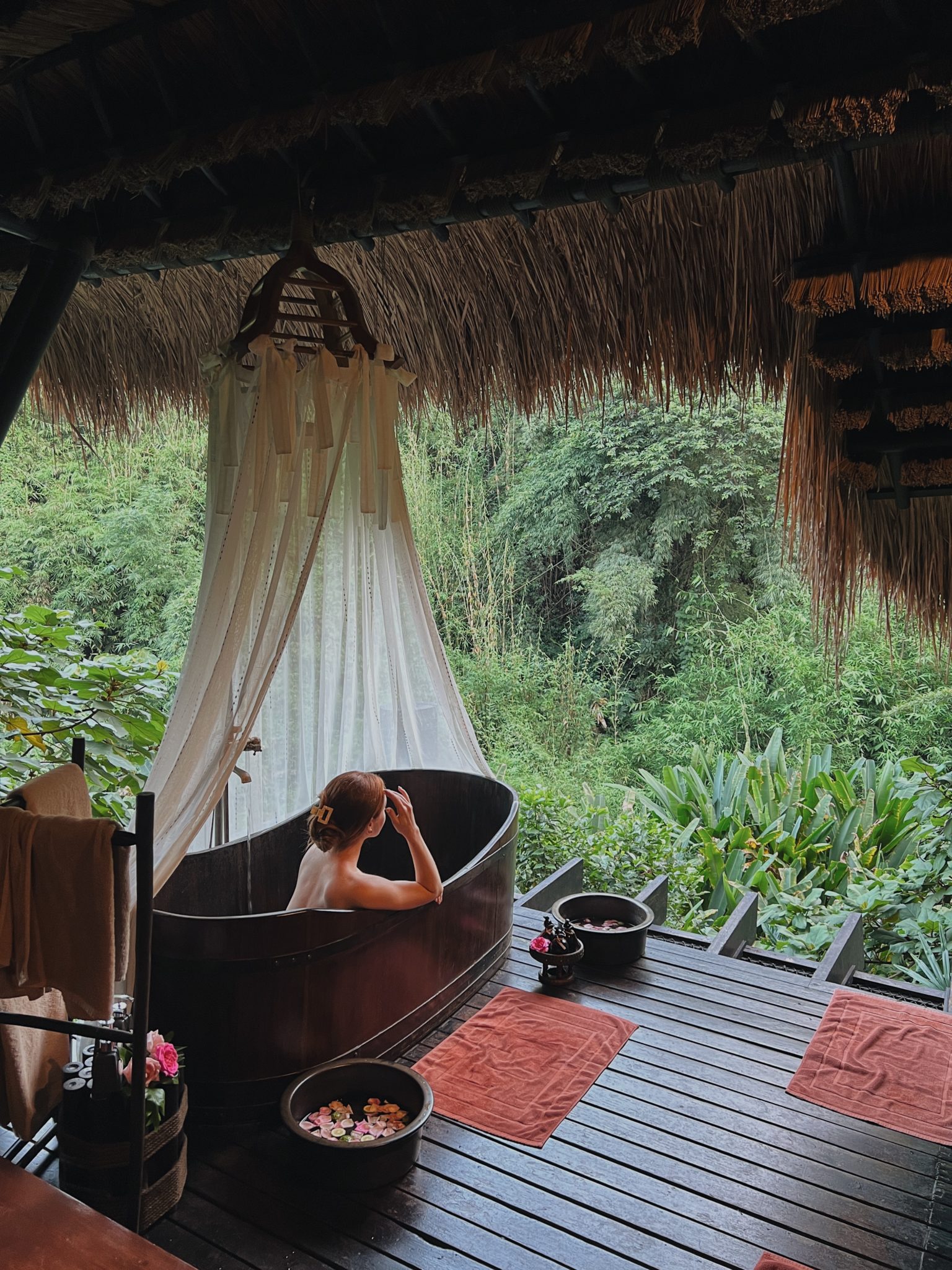 The Spa at the Four Seasons Golden Triangle
One of the highlights of my stay (although there were many) was a luxurious afternoon at the spa for an indulgent 90 minute full body massage. This is not an old hotel spa. This is an experience in itself. The spa is well nested in the forest and is at least a five or ten minute walk away, meaning you have complete privacy there. You'll be greeted by your therapist and an oversized outdoor bathtub to enjoy before or after your treatment. The setting is a complete fairy tale – wind lazily blowing the trees in the distance, birds singing and the addition of a soft fan to keep the humidity at bay.
Breakfast with the elephants
Another highlight of my stay was the morning breakfast ritual with the elephants that call the lodge home. Northern Thailand has become a haven for elephants in Thailand, with many sanctuaries in Chiang Rai and the surrounding villages. And the lodge has made it possible to meet these elephants in a meaningful way, to learn about elephant life while you feed them breakfast or watch from a distance while you eat yours.
Dine and dine at the Four Seasons Golden Triangle
And of course the food. As many of you who have followed my adventures over the years will know that food is one of my most important benchmarks for a hotel. There is so much to say about encountering a foreign cuisine and I truly believe that you can experience so much culture on your plate.
Of all the meals we enjoyed during our stay, lunch was my favorite. In the heat of the day, there was nothing I liked better than a cold, fresh salad. And it never ceases to amaze me how fresh and tasty fresh produce is here in Thailand.
Dinner and breakfast were also memorable experiences, with plenty of delicious Thai curries on offer if you fancy something local, or a western menu if you're nostalgic for home.
All in all, this was an incredible experience and will surely go down in World of Wanderlust history as one of my favorite hotels in the world. This is certainly my best pick of hotels in Thailand, so be sure to add it to your travel bucket list!
See more on Instagram.
Brooke Saward
Brooke Saward founded World of Wanderlust as a place to share inspiration from her travels and to inspire others to see our world. Today she divides her time between adventures abroad and adventures in the kitchen, with a particular weakness for French pastries.
Find me on: Twitter | Instagram | Facebook